FIND OUT WHAT IT TAKES TO CRACK THE CODE.

Crack the Code from Code3 brings you the latest on how to handle the behind the scenes challenges marketers face every day. Team members from the award-winning agency chat with key figures in marketing leadership from the most influential brands in the world to talk about what they do, what they've done, and how they make winning look easy. Each week, you'll hear from creatives, analysts, CMOs, and more on how to launch successful in-market plays again and again – and what it takes to crack the
code.
Season 2


EPISODE 2


Happiness for Sale (Selling Wellness and Joy)
In this episode, Code3 co-hosts Shalanna Clark and Ashley Harris chat up Emma Chui of Wunderman Thompson to explore the seemingly unavoidable prospect of every brand becoming a wellness brand in the future and how they can benefit from the pivot.
EPISODE 1


TikTok Content for Brands
How do we tap into TikTok the right way? It's a question marketers are figuring out one day at a time. Hear from executives at Arcade1Up, Melanie Martinez and Olivia Ougheltree and Code3's resident TikTok expert, Jen Novick, as they discuss this emerging channel and moves your brand should make today to create a lasting presence in the space.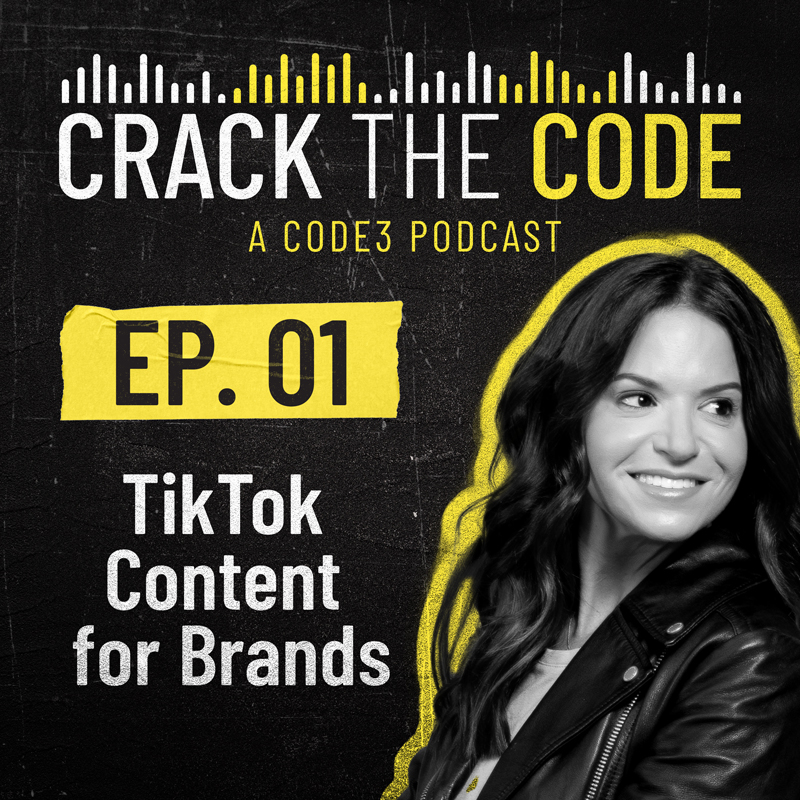 EPISODE 2


Fall 2022 Trends in Shopping
Is your brand poised to get the most revenue possible out of this holiday season? On this episode of Crack the Code, we dive into how consumer behavior this year is different from holiday seasons in the past, and what your brand can do to meet or beat its forecast in the months to come.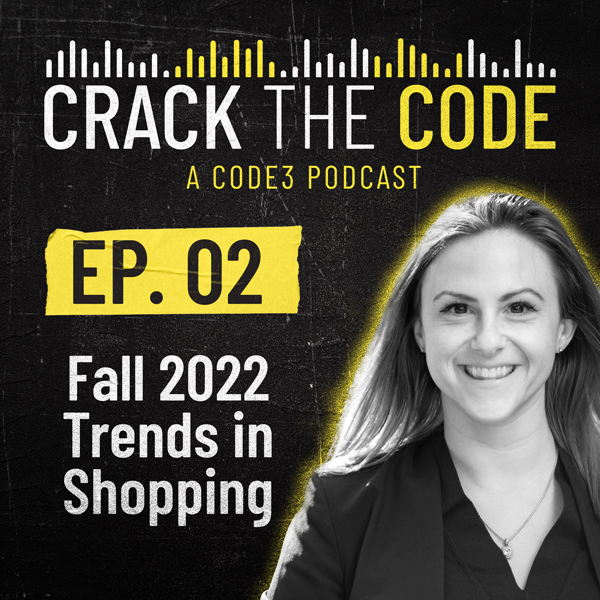 EPISODE 3


GA4 Chat
With so many data sources fueling your data story, how do you make sense of it all? In this episode of Crack the Code, we're talking with insights superstar, Randy Malluk about what it all means, which source of truth is THE source of truth and what brands can do now to prepare for the sunsetting on Google's Universal Analytics also known as GA3 in 2023.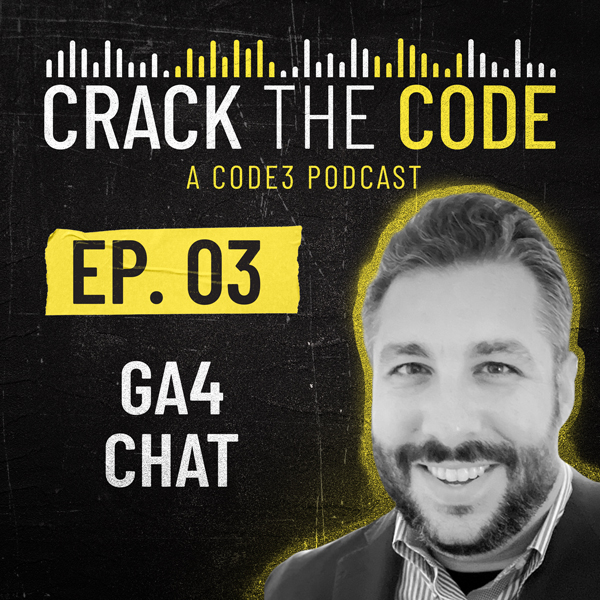 EPISODE 4


B2B Brand Equity Building
As B2B marketers adapt their strategies to suit a post-pandemic B2P, hybrid and remote work landscape, Code3 client Kroll is creating a new playbook to relationship selling. Listen in as Kroll's Chief Marketing Officer, Kimberly Bindra and Rachel Brandt of Code3 chat with us about what it takes to build a new B2B brand, how they're uncovering new ways to reach customers and what's next for the multi-company brand.
EPISODE 5

On Location at Amazon Unboxed
In this episode, we're bringing you behind the scenes with us to Amazon Unboxed 2022! Listen as commerce and retail media expert, Greg Wolny, explains how to get more from your advertising, what we can expect at this year's event and drops spoilers from his upcoming Lightning Talk.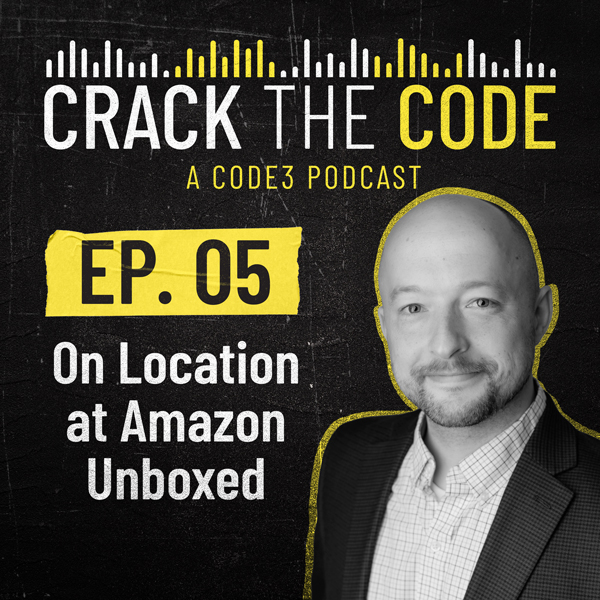 EPISODE 6

Breakthrough Sports Messaging
In this episode of Crack the Code, we're doing a deep dive on what it takes to build fandom. Listen in as we speak to Matt Knighton of SailGP and Code3's own Anne Beuhner about the wins and learnings of creating sports messaging and content for the niches and expanding to the masses.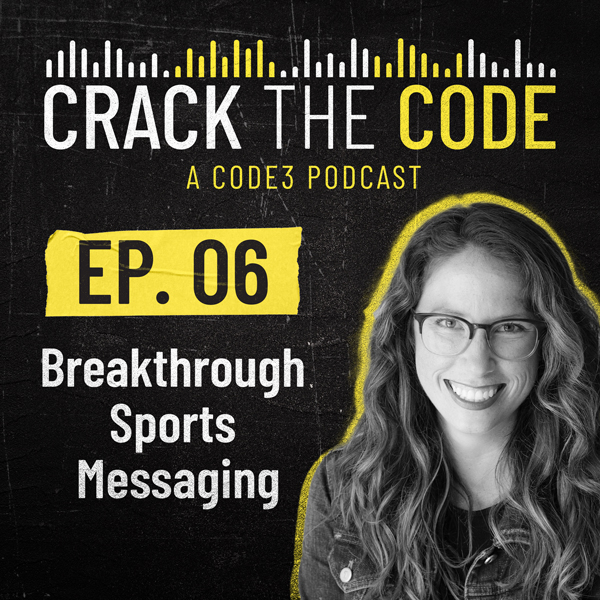 EPISODE 7

Holiday Messaging Trends to Watch
With so many advertisers relying on Q4 sales growth to sustain their brands, we sat down with Code3's Aislinn Shevlin to uncover the anatomy of a sound holiday campaign effort, the hottest trends in market right now and the hallmarks of the 'most wonderful' time of the year. Listen in!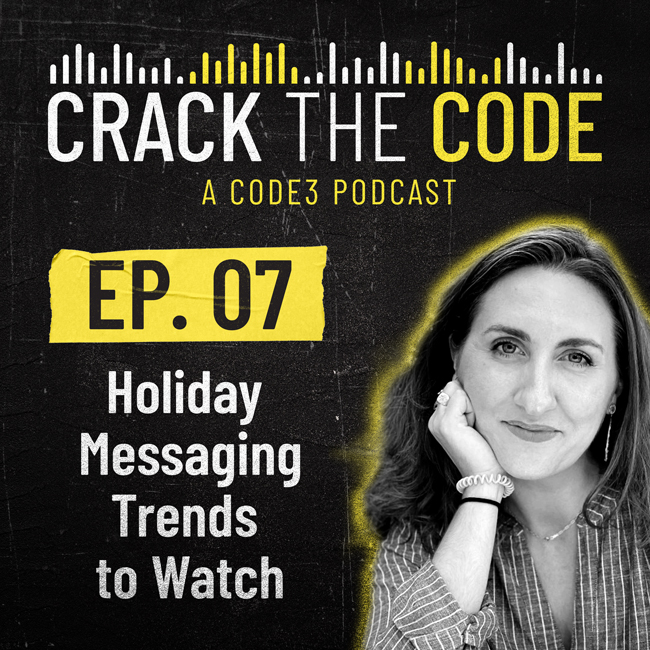 EPISODE 9

Meta Has Entered the Chat
As this year draws to a close, we're brimming with excitement for what is to come. Who better than Meta's Walker Clayton to chat with Code3's experts about what newness advertisers can expect in 2023?! Listen in as we dive into AR Lenses, Virtual Reality, the intersection of Organic and Paid Social, and more!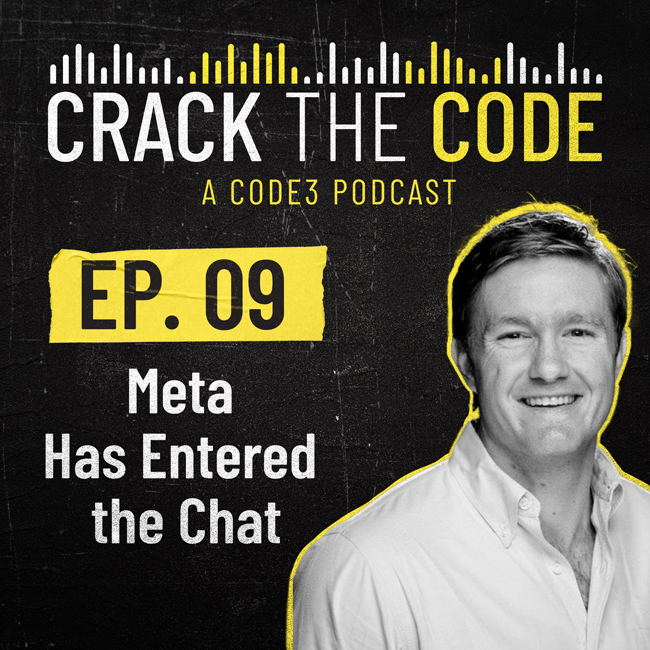 EPISODE 10

From the Desk of the CEO
In the season finale episode of Crack the Code, co-hosts Ashley Harris and Shalanna Clark speak with Code3's newly-minted CEO, Craig Atkinson. Hear from the trio on the agency's makeup, client work they love and what you can expect from the agency in the new year!!